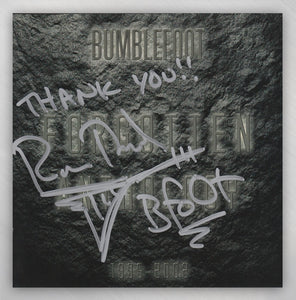 $5 of every autographed item donated to charity.
All autographed items will be hand signed by Ron Thal.
Bumblefoot "Forgotten Anthology" CD
April 2003
A collection of 18 songs from 1995 - 2002 that didn't get onto their intended CD releases. The songs either weren't fully written, fully recorded, or didn't fit the direction of the album.  Music starts with 90's grunge, followed by the metal sound of Bumblefoot's "Hands" CD, then the lounge twist of "Uncool" and finishing with the experimental fretless-guitar sounds of the "9.11" CD.
Old
Thought I Could Fly
Apathy
Shell
Meat
Day To Remember
Bagged A Big 1
Mine
Heart Attack
Girl Like You
Crunch
Maricona
13
She Knows
Myth
A Way Out
Wasted Away
Mafalda