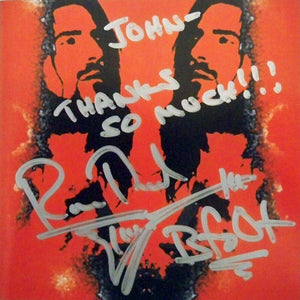 $5 of every autographed item donated to charity.
All autographed items will be hand signed by Ron Thal.

Bumblefoot CD "9.11" Autographed - November 2001
Quirky mix of instrumental fretless guitar music and hard rock ala Chili Peppers, Zappa, Hendrix and Mr. Bungle.  Guest guitarists include Mattias Eklundh and Dweezil Zappa.  100% profits of this CD donated to disaster relief organizations.
Bumblefoot Digital Releases sold separately at Bumblefoot.com
Fly In the Batter

Lost

Raygun

Hole In the Sky

Children Of Sierra Leone

Don Pardo Pimpwagon

Legend Of Van Cleef

Guitars SUCK

Hall Of Souls

Top Of the World

R2

Time