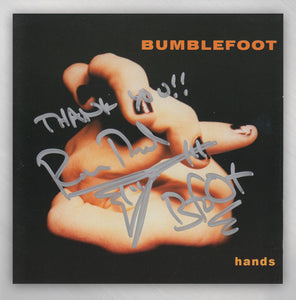 $5 of every autographed item donated to charity.
All autographed items will be hand signed by Ron Thal.
Bumblefoot CD "Hands" Autograph - March 1998
"Hands" is the debut CD of Ron Thal as "Bumblefoot" - experimental hard rock combining intense music with humorous lyrics. Fans of Red Hot Chili Peppers, Frank Zappa, Frank Zappa, Faith No More, Mr. Bungle or Primus will enjoy this record. Musicians and enthusiasts of progressive rock will also appreciate the performances on this record, as well as anyone looking for atypical lyrical content. The album art is a collection of artistic photographs of twisted and malformed hands. 
*All copies are autographed, available exclusively at the Bumblefoot store.
Hands

Swatting Flies

What I Knew

Shrunk

Dummy

Chair Ass

Noseplugs

Vomit

Brooklyn Steakhouse

Drunk

Backfur

Tuesday In Nancy

Dirty Pant'loons

Cactus (bonus track)