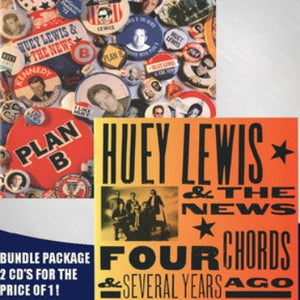 Four Chords & Several Years Ago is the seventh album by Huey Lewis and the News, released in 1994. The title is a play on the first sentence in Abraham Lincoln's Gettysburg Address ("Four score and seven years ago ..."). It is a collection of 1960s rhythm & blues covers influential to the members of the group during their early years.
Plan B is the eighth album released in 2001. This is a collection of 10 new songs that elevates the band from being just another '80s retread. It includes "I'm Not in Love Yet", a duet with Wynonna Judd.
*All International orders can take up to 3-4 weeks to be delivered, this time may be sooner, but is dependent on customs.
Four Chords & Seven Years Ago Track Listing
Shake, Rattle and Roll
Blue Monday
Searching For My Love
(She's) Some Kind of Wonderful
But It's Alright
If You Gotta Make a Fool of Somebody
Mother In Law
Little Bitty Pretty One
Good Morning Little School Girl
Stagger Lee
She Shot a Hole in My Soul
Surely I Love You
You Left the Water Running
Your Cash Ain't Nothin' But Trash
Function at the Junction
Better to Have and Not Need
Going Down Slow
Plan B Track Listing
We're Not Here for a Long Time (We're Here for a Good Time)
My Other Woman
I Aint Perfect
When I Write the Book
I'm Not in Love Yet
Thank You, No. 19
Plan B
The Rhythm Ranch
Let Her Go and Start Over
I Never Think About You
So Little Kindness