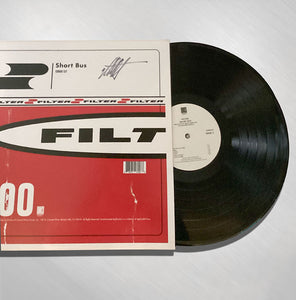 LIMITED EDITION SIGNED BY RICHARD PATRICK
Signed by Filter mastermind Richard Patrick, Short Bus is the 1995 platinum-selling debut album by the original Nine Inch Nails touring guitarist. The album includes the hit singles "Hey Man Nice Shot," "Dose" and "Under." Long out of print on vinyl, this reissue features vinyl mastering by George Horn and Anne-Marie Suenram at Fantasy Studios and is pressed at Memphis Record Pressing. 
Short Bus - CR00137
Short Bus –  tracklist:
Song Titles
"Hey Man Nice Shot"
"Dose"
"Under"
"Spent"
"Take Another"
"Stuck in Here"
"It's Over"
"Gerbil"
"White Like That"
"Consider This"
"So Cool"